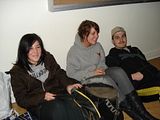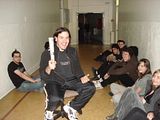 Well we made it out alive. I did not see any ghosts. Did any of my students? I hope so and am waiting to hear some of their great stories. I don't know what happened to me this semester ... I conked out at the relatively early hour of 2 am ish. Last semester I lasted til 4 am.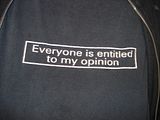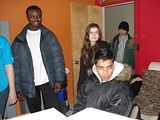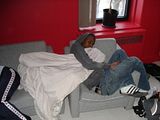 Above centre and right is the morning after. Ha ha, look at poor Bithusan sitting down int he middle. A little too much concentrated silver bullets, eh? And Brenton on the end seriously had a sore throat. Poor guy.
I conked out as I said, so I even missed the cemetary walk. Bummer. Last semester, we went to the cemetaries at about 1 am-ish. I really wasn't expecting much, but the weird thing was all these candles were lit. It was unexpected and way creepy. As well, there was a newly dug grave that had an upside down cross stuck in the dirt. As my dog would say, "What a hell?" That freaked a substantial amount of us out. And a few people claimed they saw some weird stuff. Ash, I am STILL waiting for pic/video you shot. It really was an experience.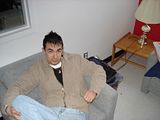 On the far left is Adrian, that handsome Romanian devil who was kind enough to give me a ride to the party and home. Thanks, Adrian. The second picture is taken at the infamous haunted stairwell of the fifth floor. This is supposedly where the nun jumped to her death.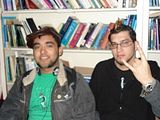 Ash and Rasa, they are both EVIL. As is Jon L. More stories to come as people update me on their experiences. Oh, and we must talk about the Ouija board. Wooooooo ....

technorati tags:Slumber, Party, Vanier
Blogged with Flock